Guest Co-hosting The Authors Embers Podcast with various Authors about their Books, and serving as a Guest about my upcoming Book!
Invitation to be a Keynote Speaker at the WOMEN EMPOWERING WOMEN Event in Boston, MA. Exact Dates To-Be-Determined.
Guest on the Podcast WRONG PLACE, WRITE CRIME with award-winning Author Frank Zafiro - Date To-Be-Determined
Co-writing, Editing, and working as a Technical Consultant on a Two-Part Episode, Inspired by Actual Events of my story, on the new Television Drama THE THIN BLUE LINE - Air Dates of Episodes To-Be-Determined, and Network decisions are in negotiation! This is a super exciting venture!

See the latest highlights of Lori's Story in/on these Platforms:

ASPIRING MAGAZINE
Holiday Edition, 2019
Order a Digital Download or a Copy of this beautiful Magazine, with Lori's Interview with Editor-in-Chief and Publisher, Cynthia Hudson @ aspiringmagazine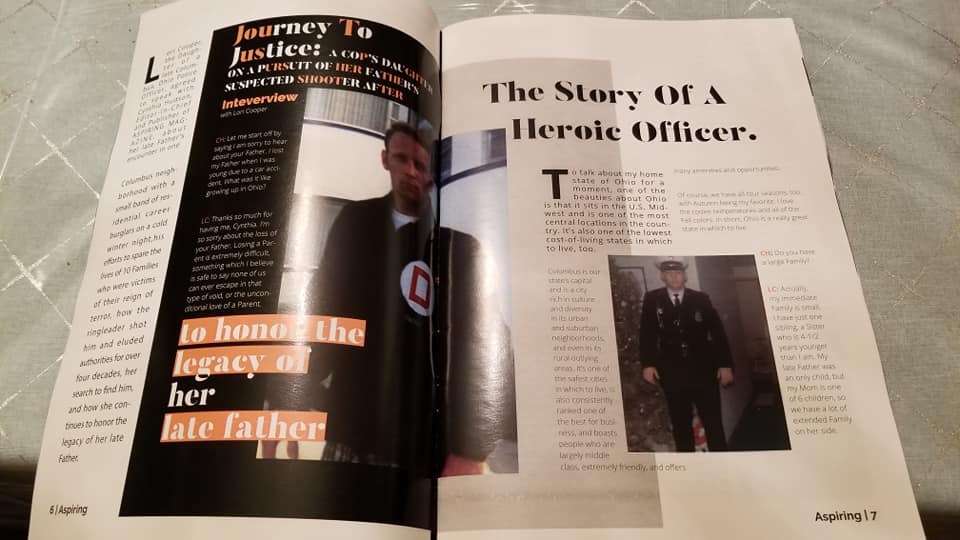 See Part 1 of Lori's Story and Interview with Coach Prasek on 12-4-19 on Patriotjournalist.com. #PJNET

Coach Prasek (@DataGenesis) tweeted at 8:21 PM on Thu, Dec 05, 2019:
1st of a 2 part series, @CoopLori shares her journey of overcoming anger and the need for revenge on #PJNET Live. WATCH the full 23 minute program.
Twitter: DataGenesis

See Part 2 of Lori's Story and Interview with Coach Prasek, scheduled on 12-16-19 at 9 PM EST on Patriotjournalist.com, streaming LIVE on Twitter, Facebook, and YouTube, as well, and on #PJNET LIVE! Please join Lori for this extremely inspiring Program you just won't want to miss!

December 17, 2019 - Taping AMERICA OUT LOUD Radio Interview with #MalcolmOutLoud - Talk Radio's and On-Demand Podcasts about perspectives on issues concerning society, Faith, and Personal Development. You won't want to miss it, folks! Air-date To-Be-Determined!